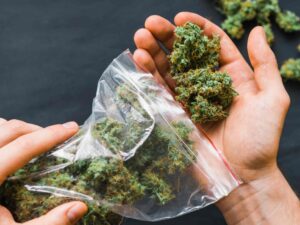 If you're a marijuana entrepreneur, you might consider cannabis business expansion to take advantage of new trends. As more states legalize recreational marijuana, a larger network of growers, retailers and lenders is making it easy to scale your operations. 
By investing in new markets and products, you have an opportunity to expand your customer base and diversify your revenue streams. Here are some of the ways cannabis business owners are pursuing expansion.
Why Is Business Expansion Important for Cannabis Businesses?
Every business owner understands the need to expand and grow. Evolving businesses thrive by:
Keeping their customers continually engaged

Adjusting to increased competition

Promoting new products or services

Remaining relevant in the face of market saturation
The same applies to marijuana business owners. Cannabis business expansion empowers your business to adapt to new opportunities and remain resilient in the face of unexpected challenges.
You started your business because you're passionate about the industry. An expansion project will enable you to continue sharing your passions with your community and customers. 
According to the Small Business Administration (SBA), 68% of the money spent at small businesses stays in the hands of local residents. Growing your business can indirectly benefit your local economy.
How to Invest in New Markets and Cannabis Products
What exactly does cannabis business expansion entail? Every business has goals and priorities, but the following are some of the best practices for engaging in new markets and cannabis products. 
Cannabis lenders are always there to provide the funding opportunity you need for expansion projects, including real estate, supplies, equipment and working capital to cover your day-to-day expenses.
Exploring New Markets
Marijuana legalization is continuing to grow. As of 2023, 23 states have legalized marijuana for recreational use. As recreational cannabis becomes more widespread, it creates new opportunities for existing business owners to explore new markets.
For example, cannabis entrepreneurs might consider becoming multistate operators (MSOs), meaning you'd do business across state lines. MSOs need different cannabis business licenses for each new territory, but the expanding legalization of marijuana opens new doors to tap into broader geographic markets.
Existing cannabis entrepreneurs must research carefully to evaluate these new opportunities. What is the profit potential? What are the consumer demands and trends? Answering these questions can help cannabis business owners strategically explore new markets and expand their customer base.
Selecting a Profitable Niche
As marijuana businesses become more widely accepted, competition is ramping up. As a cannabis business owner, it's important to communicate your unique value to rise above your competitors.
One of the best ways to distinguish yourself is by finding an industry niche. What products or services make your business stand out? Think about models such as:
Cannabis health spas

High-end edibles

Vegan or organic products

Locally sourced products

Cannabis

delivery service

s
Not sure where to start? Spend some time conducting market research to better understand consumer preferences. Better yet, look at what competing businesses are doing. Competitive analysis doesn't mean replicating your competitors, but it may mean learning what's working and seeking to connect with your clients on a similar level.
Diversifying Product Offerings
Not all marijuana products are the same. Cannabis product categories include:
Prerolls

Cannabis edibles

Cannabis vape products

Cannabis topicals

Tinctures

Cannabis-infused food and beverages

Cannabis concentrates and extracts
Not every product has the same customer base. By diversifying your product line, you'll have a better chance of connecting with customers who prefer one product category over another. To that same end, offering a wider variety of brands within product classes can connect you to more customers and keep your business fresh.
Researching product development and manufacturing processes will help you select the top-quality products for your business. It also will help you better connect with your customers if you can demonstrate strong product knowledge.
Partnering With Established Brands
Cannabis business expansion doesn't necessarily mean you'll have to focus on your business alone. Many business owners might consider partnering with other cannabis companies for stronger partnerships.
For instance, some cannabis businesses are migrating to a franchise model. The parent company becomes the franchisor, and investors become the franchisees. The benefit is that franchisees can operate under an established brand, which comes with its own customer base. 
Just be mindful that the franchisor's support requires you to pay a franchising fee as well as ongoing royalties.
In other cases, you can form partnerships with other companies whose goals align with your own. Retailers might consider partnering with a cultivator. This gives you direct access to quality products, and the cultivator may offer discounts for those who commit to a regular contract.
Investing in Research and Development
Like any industry, cannabis business development demands innovation. Cannabis business owners might consider investing in product testing and development. Research and development investments can pay great dividends once you find a product that's unique and connects with your target market.
Even small businesses can tap into cannabis business loans to purchase inventory and equipment and fund other ventures to expand their product lines. Industry publications also can be valuable sources of information about new consumer trends and product developments.
Setting Up Operations in New Markets
Expanding into new territories can diversify your customer base. You'll no longer be limited by geography. Becoming a multistate operator is a great way to do this, but it also requires establishing your infrastructure and supply chain to achieve new market growth.
Focus on developing distribution channels and retail partnerships. This will allow you to streamline your operations as you pursue new markets. Depending on the nature of your business, you may need a marketing plan that connects with customers in each of your target markets.
Overcoming Challenges and Mitigating Risks
No business project is without challenges and risks. As a cannabis entrepreneur, you have a unique opportunity to meet these challenges head-on. 
You'll need to meet the licensing requirements for each new territory you operate in. And if you plan to introduce multiple cannabis business models such as retail, cultivation or manufacturing, you'll need different licenses for each business process.
This is not just a one-time event but an ongoing process. Cannabis businesses must stay on top of evolving regulations and licensing requirements to remain in operation.
The right funding always helps. Cannabis lenders can provide the financing you need to purchase real estate, inventory and equipment. Working capital loans can also provide you with the funding you need to maintain day-to-day operations even as you work to grow your business.
The Funding You Need for Your
Cannabis Business Expansion
According to recent estimates, the cannabis industry is expected to reach $154 billion by 2027. Cannabis business owners can seize this opportunity through cannabis business expansion projects.
Cannabis Business Resources is here to help. While banks and traditional lenders don't provide financing for cannabis businesses, we offer unique services to keep your business thriving. Our online application process is free and takes just 60 seconds to complete, so apply today.
Frequently Asked Questions
Q: What is the expansion of the cannabis industry?
Now that more states are legalizing recreational cannabis, the industry is expanding across the United States. By some estimates, the cannabis industry will surpass $150 billion by 2027.
Q: Why is the cannabis market growing?
Increasing legalization allows more businesses to sell marijuana. And as marijuana grows in acceptance, more people will be attracted to diverse lines of cannabis products.
Q: Is cannabis the fastest-growing industry in the U.S.?
According to Arizona State University, cannabis is among the nation's fastest-growing industries, and new businesses and products are emerging as legalization progresses.