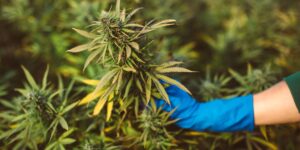 Across America, the cannabis industry is experiencing explosive growth. That's good news for existing cannabis businesses. Now's the time to seize new opportunities and expand your business operations. Here are some of the best small-business growth strategies for those working in the cannabis industry.
As the Cannabis Industry Expands, So Should Your Business
According to the Maryland University of Integrative Health, the cannabis industry is "experiencing unprecedented growth," with sales projections of $18 billion by 2030. 
More cities legalizing recreational marijuana, and the products themselves are being marketed as "health and wellness" products. This reflects changing consumer attitudes toward cannabis — a trend business owners should capitalize on in growing their businesses.
10 Strategies for Expanding Your Cannabis Business
There's no one-size-fits-all business development strategy for cannabis businesses. But the following 10 strategies can help you drive business growth. 
1. Use Social Media Platforms
Cultivating a social media presence is arguably the most cost-effective marketing strategy for cannabis businesses. Maintaining a presence on Facebook, Instagram, Twitter or LinkedIn costs nothing, and it can give your company greater visibility among your target market. 
But you also have the option of paid advertising on these platforms, creating ads that target specific demographics to promote your business.
2. Offer Competitive Pricing
Pricing models can prove to be effective small-business growth strategies. Low prices can help you outshine your competitors and attract a wider customer base. 
But raising prices can also give you a competitive edge. How? High-dollar items can be marketed as a "premium" product, positioning your business as a high-quality alternative to your competitors.
3. Focus on Providing High-Quality Products
Your customers will associate your brand with your products. Focus on building positive associations by offering the highest quality products. This will satisfy your target market's needs and establish your credibility as a cannabis distributor.
4. Build a Strong Online Presence
A social media presence is a good start, but your growth strategy should also include building a strong web presence. If you don't already have a website, make sure to create one that offers insight into your company and its products. 
You can also reach a broader audience by creating unique content through a cannabis blog. These blog posts will help you build brand awareness and grow your audience. And always make sure to deploy the best search engine optimization (SEO) practices — using keywords to ensure your website ranks high on search engine results pages.
5. Offer Exclusive Promotions and Discounts
Discounts and promotions are a great way to attract and retain customers. For example, weekly and monthly discounts can encourage customers to frequent your business. But loyalty programs can keep them coming back. 
Depending on the exact nature of your business, you might also offer rewards or referral bonuses that help you generate leads directly from your existing customer base.
6. Attend Cannabis Conferences and Networking Events
Cannabis conferences and other networking events provide opportunities to meet new clients, partners or industry experts. You may even discover small-business growth strategies that help you expand your business. 
Additionally, by networking with other industry professionals, you'll have the opportunity to promote your brand or make new connections with distributors or suppliers. And now that the cannabis industry is expanding, you may find online webinars or virtual events that let you learn from the comfort of your home.
7. Improve Customer Service
As the cannabis industry grows, you're likely to face increasing competition. One way to stay ahead of this competition is by offering first-rate customer service. 
Your customers come expecting knowledgeable staff and a frictionless buying experience. And in the age of the internet, a bad experience can be immortalized in an online review, which can have a serious impact on your reputation. Make sure to train your staff to offer excellent customer service to everyone who comes to your store.
8. Develop a Strong Brand Identity
What do you want your cannabis business to be known for? Maybe you occupy a unique industry niche or you're simply trying to cultivate a unique brand image or message that resonates with your target market. 
It's important to maintain the continuity of the brand across all of your selling channels — social media, website and print materials.
9. Expand Product Offerings
As your business grows, so should your product line. Offering new strains, for example, can entice new customers or encourage existing ones to diversify their purchases. Consider adding new product forms, such as edibles, topicals and oils. 
These changes can enhance your other small business growth strategies; for instance, they give you an excuse to talk about a new product through your social media channels.
10. Consider Cannabis Business Funding to Accelerate Your Growth
Implementing these strategies may take additional resources. You can accelerate your business growth by pursuing cannabis loans, giving you the capital to invest in new products, equipment, marketing or real estate. 
But because traditional banks don't loan to cannabis business owners, you'll need to find a lender that specializes in the cannabis industry.
Take Control of Your Growth
These small-business growth strategies can accelerate your cannabis business, providing you with a clear strategy for the road ahead. 
As the cannabis industry continues to grow, you'll find more opportunities to expand your own business, increase its offerings and reach new market segments. The question now is which strategy will you implement first?
Frequently Asked Questions
Q: Is cannabis a fast-growing industry?
A: The cannabis industry is one of the fastest-growing industries in the United States, doubling in size in the years leading to the pandemic and showing no signs of slowing.
Q: What is the projected growth in the cannabis market?
A: The cannabis industry is expected to grow 250% by 2030, with annual revenue projections as high as $75 billion.
Q: How much will the cannabis market be worth in 2030?
A: Estimates vary, but some industry experts expect the cannabis market to be worth over $75 billion by 2030.