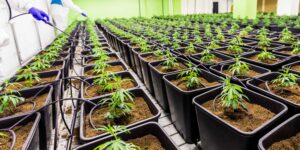 With marijuana gaining greater acceptance, many cannabis business owners are outgrowing their existing space. If that sounds familiar, it may be time to consider applying for cannabis real estate loans. 
But before you do, there are a few things to think about. Here are some tips for securing real estate loans for your cannabis business.
What Are
Cannabis Real Estate Loans
?
Business owners commonly need real estate loans to purchase warehousing or retail space. The same applies to cannabis business owners, who may also need cannabis real estate loans to purchase growing or processing facilities.
But because the cannabis industry is still highly regulated, you'll need to find a real estate lender who understands the needs of your business, including any restrictions that may apply to marijuana growers and distributors.
Understanding Cannabis Real Estate Financing
Cannabis real estate loans are easier to get than they were years ago. According to the National Association of Realtors, 18% of commercial members report increased buying versus renting in states where marijuana is legal.
Still, cannabis business owners should understand that some cities have instituted ordinances prohibiting cannabis dispensaries from operating in certain areas. 
In Chicago, for instance, dispensaries must be at least 500 feet from a school, while growers, processors and infusers must operate in manufacturing districts and be 660 feet from residential areas.
These factors could influence the kind of real estate you're able to secure, affecting your business plan and the size of your real estate loan. Having a clear business plan can help you secure the best loan amount and terms.
8 Tips for Getting Cannabis Real Estate Financing Approved
What can you do to improve your chances of securing cannabis real estate loans? The following tips can increase the likelihood of receiving a loan as well as improve the terms of the loan itself.
1. Research Cannabis-Friendly Lenders
The cannabis real estate lending industry is still in its infancy. You'll need to seek out lenders who specialize in cannabis real estate loans and understand the needs of your business. 
It may help to read client reviews. Does the lender have a good track record? Does it help those in your unique niche? This can help you narrow the field to find the right lender.
2. Understand the Lending Requirements
Your loan eligibility depends on multiple factors, including:
Credit score

Financial history

Revenue projections

Business details
Be prepared to offer these details upon request. Having your documents on hand can streamline the process. Also, investigate the lender's other requirements. 
It's a good idea to compare the rates and terms from three different lenders before making a commitment. Some lenders may have origination fees or other costs that might impact your financing considerations.
3. Have a Business Plan
Most cannabis lenders will expect to see your business plan. Make sure to keep your business plan up to date with information on how the money will be used, your projected revenue and profit margins. 
Remember, real estate loans can't be used for other business purposes, so you may need to seek out another lender for cannabis equipment financing or other financial needs.
4. Be Transparent
Some business owners may feel tempted to fudge the data when applying for financing. For instance, you might inflate your financial projections a bit or conceal additional assets you might otherwise use for commercial real estate. Be transparent. If you're discovered, your lender may accuse you of fraud and take legal action.
5. Put Down Collateral
Secured loans require collateral. That way, if your business should fail, the lender can recoup their loss by seizing that asset. Most businesses use their existing business property or equipment as collateral. The good news is that by putting down collateral, your lender will usually offer a lower interest rate. 
6. Consider Using Experienced Attorneys
The cannabis real estate industry is complex, and it can be even more complex with local and state zoning restrictions. If you need help, you might consider seeking an attorney with a background in the cannabis industry and experience with how these real estate decisions align with your business goals.
7. Consult Cannabis Industry Experts
Talking with industry experts can refine your perspective on real estate financing options. 
For instance, real estate investors and financial advisers can offer advice and guidance on financing options as well as what type of real estate assets are right for your business. That's a great reason to use cannabis lenders because you'll get both financing and industry experience.
8. Find the Right Location
As with any business, location matters. But as a cannabis entrepreneur, you'll need to consider multiple factors when finding cannabis real estate for purchase. Think about things like:
The projected demand in the area you're targeting

Zoning restrictions that may apply

The availability of commercial property in that area
Again, talking about these things with an industry professional may provide some clarity. It may also help you narrow down the location you're looking for once you start shopping for commercial real estate.
An Investment in Your Future
Every business loan is an investment in your dreams. Cannabis real estate loans are no different. Securing the right loan can help you secure the right property, which can pave the way to the future your business deserves.
Frequently Asked Questions
Q: Can banks lend to cannabis companies?
A: Because cannabis is only legal on a state-by-state basis, traditional banks generally do not lend to cannabis business owners. You'll need to seek out cannabis lenders for specialized assistance.
Q: Where is the easiest place to open a dispensary?
A: Cannabis business owners will find the greatest success in downtown areas, which offer greater customer volume. But make sure to check your local ordinances, which may influence where you locate your business.
Q: Are dispensary real estate loans worth it?
A: The cannabis industry is growing rapidly. A cannabis real estate loan is an investment that pays returns through the profits you bring in.