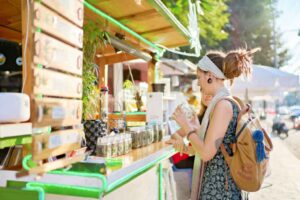 The cannabis industry is constantly changing, and multistate operators (MSOs) are now playing a vital role in shaping how cannabis businesses operate. Unlike startups or newcomers, these established entities have expanded their operations across multiple states, capitalizing on their scale, expertise and resources. 
Read on for valuable insights into what MSOs are and a comprehensive guide on how to become one. By understanding the strategies and requirements involved in becoming an MSO, entrepreneurs and cannabis business owners can tap into the potential offered by operating across state lines in this rapidly growing industry.
What is a
Multistate Operator
(
MSO
)?
A multistate operator (MSO) is a cannabis business that operates in multiple states. Unlike businesses limited to a single state, MSOs have successfully expanded their operations and established a presence in multiple markets. These operators leverage their size, expertise and resources to navigate the complex regulatory landscape of various states and capitalize on the opportunities presented by a broader geographic reach.
MSOs typically engage in various aspects of the cannabis supply chain, including cultivation, processing, distribution and retail. By operating across state lines, they aim to create a cohesive and integrated business model that spans different regions and takes advantage of economies of scale.
Establishing and operating as an MSO requires significant investments, strong compliance practices and a deep understanding of state-specific regulations. 
Challenges of Operating a Cannabis Business in Multiple States
Operating a cannabis business in multiple states presents several challenges, including navigating state regulations, compliance requirements and local nuances. Here are some key hurdles MSOs face:
State-specific regulations:

Each state has its own set of laws and regulations governing the cultivation, manufacturing, distribution and sale of cannabis products. MSOs must stay up to date with the ever-changing regulations and ensure compliance in each jurisdiction they operate in.

Compliance complexity:

Managing compliance across multiple states can be a daunting task.

MSOs

need to establish robust compliance programs to meet state requirements regarding licensing, tracking and tracing, security protocols, product testing, labeling and advertising.

Operational scalability:

Expanding operations across state lines requires careful planning and execution.

MSOs

must establish supply chains, distribution networks and retail operations in each state, adapting to the specific market conditions and consumer preferences of each location.

Local market knowledge:

Each state has its unique demographic, cultural and consumer preferences.

MSOs

must conduct thorough market research and adapt their product offerings, branding and marketing strategies accordingly to cater to the specific needs and preferences of each local market.

Financial and banking limitations:

Despite cannabis legalization in many states,

federal regulations

still classify cannabis as a controlled substance. This creates challenges in accessing traditional banking services, which can hinder financial transactions and create cash-management complexities for

MSOs.
Successfully overcoming these challenges requires a deep understanding of the regulatory landscape, meticulous planning, operational excellence and continuous adaptation to comply with evolving requirements. 
Advantages of
MSO
Cannabis Businesses
Expanding as an MSO industry professional comes with its challenges, but the potential benefits of operating across multiple states make it an attractive strategy for cannabis businesses. Advantages include:
Economies of scale:

MSOs

can leverage their extensive network of dispensaries, cultivators and processing facilities to drive down costs through bulk purchasing, shared resources and streamlined operations. This allows for enhanced efficiency and improved profit margins.

Geographic diversification:

By operating in multiple states, MSOs can mitigate risks associated with operating in a single market. Diversifying across regions helps safeguard against market fluctuations, regulatory changes and potential disruptions.

Brand recognition and loyalty:

Establishing a presence in multiple states allows

MSOs

to build a strong and recognizable brand across different markets. This fosters brand loyalty among consumers and provides a competitive edge in an increasingly crowded industry.

Access to a larger customer base:

Operating across state lines expands the potential customer base exponentially. This allows MSOs to tap into a broader market, increasing revenue opportunities and market share.

Knowledge transfer and expertise:

MSOs

gain valuable insights and expertise from operating in different states, each with its unique regulations and market dynamics. This knowledge can be applied to refine operational strategies and improve overall business performance.

Opportunities for expansion and consolidation:

MSOs with a successful track record can explore opportunities for mergers, acquisitions and partnerships. Consolidation in the industry enables MSOs to expand their market presence, consolidate resources and achieve further growth.
How To Become a
Cannabis MSO
To help business owners navigate the process of becoming an MSO effectively, there are a few key factors to consider.
Make Sure There is Demand in the Area You're Expanding Into
Before expanding into a new location, assess the market demand for cannabis products in that area. Conduct thorough market research to understand the demographics, consumer preferences and competition in the region. Evaluating market demand helps determine the viability and potential profitability of establishing a dispensary in that location.
Check on
Cannabis Business License
and Permits Needed
Compliance with licensing and permits is a critical aspect of operating a cannabis business in any state. Research the specific licensing requirements and application processes for the state you are expanding into. This includes understanding the eligibility criteria, documentation, and fees such as the license fee and application fee, along with ongoing compliance obligations. Ensuring compliance with licensing and permits is essential for operating legally and avoiding potential penalties or business disruptions.
Understand Marijuana Tax Rates
Cannabis businesses are subject to varying tax rates in different states. Familiarize yourself with the specific marijuana tax structure in the state you are planning to expand into. This includes understanding sales taxes, excise taxes and additional local taxes imposed on cannabis products. Properly accounting for tax obligations is crucial for financial planning and maintaining compliance with tax regulations.
Study Local Zoning Laws
Local zoning laws dictate where cannabis businesses can operate in a specific jurisdiction. Study the zoning regulations and restrictions in the area you are considering for expansion. Ensure that the location you choose complies with the designated zoning requirements for cannabis businesses. Familiarizing yourself with local zoning laws helps prevent potential conflicts and legal issues when establishing your dispensary.
Solidify Your Cannabis Lending Partner
Expanding a cannabis business requires significant financial investment. Traditional banking institutions may be hesitant to provide financial services because of federal regulations surrounding cannabis. Specialized lenders are experts in the cannabis industry. They understand the industry's unique challenges and can provide funding opportunity tailored to the cannabis space. You'll want to work with a lender who not only supports cannabis businesses in general but also operates in the state you are looking to expand into.
Strategies, Compliance and Specialized Lenders
Becoming an MSO in the cannabis industry holds great potential for businesses looking to expand their operations. By carefully assessing market demand, understanding licensing requirements, navigating tax rates, studying local zoning laws and securing the support of specialized cannabis lenders, entrepreneurs can lay a solid foundation for a successful expansion in multiple states.
Frequently Asked Questions
Q: What is a cannabis MSO?
A: A cannabis MSO, or multistate operator, is a company that operates in multiple states.
Q: Are MSOs profitable?
A: Yes, a multi state operator has the potential to be profitable. By operating in multiple states, they can capitalize on economies of scale, maximize operational efficiencies and access larger customer bases. These factors contribute to their ability to generate profits.
Q: What is the easiest state to get a dispensary license?
A: The ease of obtaining a dispensary license varies among states and is subject to change because of evolving regulations. Some states with relatively less restrictive licensing processes have included Oklahoma, Missouri and Michigan. Conduct thorough research and stay updated on the specific requirements of each state when pursuing a dispensary license.
Quick Apply
*** Not a provider of personal loans! ***
"*" indicates required fields