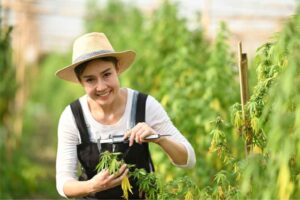 Commercial real estate is one of the greatest needs for any growing business. But for cannabis business owners, finding the right location for their retail store or cultivation facility comes with additional challenges. Even in states that have legalized marijuana use, restrictions surround cannabis real estate.
What is the best way forward? This guide will help you learn more about the current landscape of cannabis real estate and provide solutions that can help current business owners expand their operations.
Understanding the Legal Landscape of
Cannabis Real Estate
The proliferation of cannabis businesses has increased the demand for commercial real estate. Property needs include growing sites, cultivation facilities and retail stores. But even business owners in states that have legalized cannabis use can face legal challenges and restrictions.
The main legal challenge relates to zoning restrictions. States and municipalities can set specific zoning rules about the way that land is used or require that retail stores be located a minimum distance from residential areas. 
In California, for example, there are statutes that prohibit dispensaries from operating within 600 feet of a school or youth center.
Your actual business licensing can also play a factor in your real estate experience. For instance, expanding your cultivation business to include a retail storefront requires additional licensing. Your landlord may expect you to pay a deposit to secure your retail space until you obtain your license.
5 Tips for Expanding Your Cannabis Operations
As a cannabis business owner, you can grow your operations by securing additional real estate. But how do you navigate the challenges outlined above? Here are some tips for obtaining cannabis real estate so you can see your business truly flourish.
1. The Importance of Location
Everyone knows the three rules of real estate — location, location, location. Cannabis businesses will need to pay careful attention to their location for two distinct reasons. 
First, location matters because you want to position your business strategically in your community to capitalize on the cannabis market. 
Retail storefronts work best when they are easily accessible, with plenty of parking or offer the advantage of a lot of foot traffic. It can also help to open your business near other retailers, so you experience cross-traffic from other businesses.
But don't neglect the legal challenges outlined above. Your search for cannabis real estate will have to account for residential areas, school zones and daycare facilities as your local community may prohibit you from operating in these areas. 
The same can apply to a cannabis cultivation site, which will also need to be located away from residential communities and schools.
2. Types of Cannabis Properties
Cannabis real estate properties are incredibly diverse. The type of property you choose will relate directly to your business model or at least what you want to accomplish at any given location. Common property types include:
Retail storefronts

and dispensaries

Cultivation facilities

Manufacturing sites

Testing labs

Office space
As an existing cannabis business owner, you may consider purchasing additional real estate to expand your current operations, such as by opening a second retail location in your community. But you might also consider diversifying your revenue streams by operating both a cultivation site and a retail location to sell your products.
Regardless of what type of cannabis business you're in, you may benefit from having a dedicated office location for your administrative operations, which is a must-have if you have dedicated accounting staff or office support.
3. Financing and Investment Opportunities
Cannabis real estate financing can be hard to come by. Even though cannabis is gaining wider acceptance, it's still only legal on a state-by-state basis. 
Because of this, traditional banks and lending institutions will not offer financing for cannabis businesses. And loans backed by the U.S. Small Business Administration — long regarded as the gold standard for small-business owners — cannot be used for cannabis businesses.
The good news is that you can still find cannabis loans through private investors and direct cannabis lenders. Finding and choosing providers requires a bit more research because they don't have the name recognition of major banks. 
Many investors are eager to support a growing cannabis business, especially because recreational cannabis alone is expected to generate $30 billion a year by 2025.
Lenders and investors can offer term loans, which are lump-sum business loans that cannabis retailers pay back (with interest) in the given term. But some lenders can also extend loans geared toward the purchase of equipment and research and development or offer business lines of credit for a flexible funding option.
4. Navigating Compliance and Regulations
The greatest challenge of a cannabis real estate transaction is navigating the legal and regulatory issues that surround the cannabis industry.
Now that cannabis is becoming a more accepted industry, you might expect real estate companies to offer commercial cannabis listings to help you find the right location. 
Landlords will typically expect you to have your licensing taken care of in advance, but you may be able to put down a deposit to hold the property until you're ready to begin operations in that location.
If you need help navigating the complex and evolving regulatory landscape, you might consider working alongside a dedicated cannabis lender. The right lender can assist you in understanding such issues as licensing requirements, zoning restrictions and other common challenges.
5. Market Trends and Future Outlook
The cannabis industry has never looked better. States are reporting record-topping sales, which may mean significant shifts in the cannabis real estate industry in the coming years.
For example, the National Association of Realtors reports that there's been a measurable increase in the number of cannabis business owners opting to purchase a commercial property rather than rent it, especially in states that legalized marijuana in the last five years.
In the future, ongoing legalization will likely spell an increase in the number of cannabis business listings in the United States. 
It's possible that traditional banks and lenders will begin offering financing options to cannabis entrepreneurs, but in the meantime, cannabis lenders have a lot to offer — not just with financing but the guidance needed to navigate the regulatory challenges growing cannabis businesses face.
How
Real Estate
Helps a Growing Industry
Cannabis business owners have a lot to be proud of. They've overcome the normal challenges of establishing their own business as well as years of cultural stigma surrounding the use of recreational marijuana. The question is, where do they go from here?
If you're a cannabis entrepreneur, this can be an opportunity to seize commercial real estate and grow your business to stay competitive as the industry expands. A cannabis lender can help you with your cannabis real estate transactions and guide you toward greater business success.
Frequently Asked Questions
Q: Is obtaining
cannabis real estate
easy?
A: Cannabis real estate is more challenging than other types of commercial real estate, mainly because every state establishes unique regulations regarding licensing, zoning restrictions and more. Additionally, financing is not as readily available as other types of real estate funding.
Q: What is a vertical cannabis business?
A: A vertical cannabis business is one that controls every part of the production process, from growing the plants to final retail sales. It's similar, in a sense, to the "farm-to-table" model of food production, where the business owner superintends both the production and sale of their products.
Q: What sector of cannabis is most profitable?
A: The most profitable cannabis sector is retail sales. The IRS currently reports that the industry is expected to grow to roughly $30 billion per year by 2025.