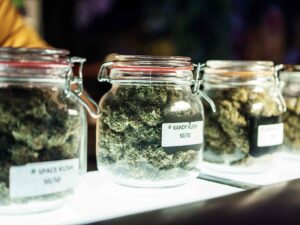 The old saying is true: It takes money to make money. As a cannabis business owner, you likely discovered that fact when you first opened your doors. But now that your business is flourishing, it may be time to consider a working capital loan to fuel your expansion.
Working capital loans provide fast, flexible financing to fund just about any aspect of your business. They're typically a better — or at least more immediate — option than traditional loan programs, making them ideal for growing cannabis businesses.
What Is a
Working Capital Loan
?
A working capital loan (sometimes called a cash-flow loan) is a funding option that can be used to fund your business's day-to-day operations. The loans are intended to provide a business with additional cash flow to fund short-term obligations or cyclical sales trends.
While a working capital loan isn't designed to fund long-term projects, it can still be invaluable for small-business owners who need additional help in paying for operational expenses such as inventory, payroll or rent. But its flexibility also allows you to allocate resources to cover business expansion projects.
How Does a
Working Capital Loan
Work for Cannabis Businesses?
Working capital loans can typically provide faster funding than other types of business financing. That's especially true because cannabis business owners can't get loans from traditional lenders as cannabis is illegal at the federal level. 
A working capital loan can ensure that businesses receive the funding they need to cover their operational costs. Growing businesses may need additional working capital to purchase new equipment, hire additional staff or take advantage of cyclical sales trends by investing in additional inventory.
Benefits of
Working Capital Loans
for Cannabis Businesses
Cannabis business owners can benefit from access to a flexible small-business loan option. Working capital loans offer several advantages, including:
Business Expansion
The most immediate benefit of a loan is that it provides for your working capital needs so you can focus on expanding your business. That's because working capital loans help with your everyday operational expenses, freeing up money that can be used to seize new business opportunities.
For example, if you're interested in purchasing additional sales equipment or retail space, you'll need to have the funds available. Sure, you can apply for a traditional cannabis loan, but a working capital loan can offer fast approval so you can take advantage of opportunities as they arise and beat the competition.
Inventory Management and Hiring
Working capital loans are designed to fund your most regular operating expenses, so they're perfect for covering expenses like inventory and payroll. Some cannabis business owners discover cyclical trends, such as 4/20 sales. Having the business capital to invest in additional inventory during busy seasons can help you maximize your revenue.
Similarly, you can use a working capital loan to hire additional staff. This might be a great way to hire more employees for a growing business, then pay their salary once your revenue picks up. But you might also use the loan to cover contractors who assist with things like remodeling, web development or other growth-related projects.
Flexibility to Adapt to Market Changes
Business costs can be unpredictable no matter what industry you're in. But cannabis business owners face unique challenges because of their limited options for inventory, supplies or creating an emergency fund.
Inflation hits every business hard. But while other businesses can turn to a traditional bank or lender for support, cannabis businesses don't have that option. A working capital loan can provide the funding needed to react quickly to changes in the market or the broader economy.
Quick Approval and Funding
Because working capital loans generally offer a smaller loan amount than a typical term loan, the eligibility requirements are more straightforward. Credit score requirements also can be lower, depending on the lender. 
After a quick review of your finances and your credit history, you can receive fast approval — the money will often be available within 24 to 48 hours. But make sure to check the terms and conditions. Some lenders tie the loan to your personal credit, which can leave you on the hook if you fail to repay it.
Simple Loan Application
If you've ever applied for a term loan, you know that the application process can be a bit daunting. Most lenders expect to see your business plan and financial statements from the previous two months or longer.
Working capital loans offer a simpler loan process, which means that securing funding will be less labor-intensive than other loan programs. And after a credit decision from the lender, your funds will be available within 24 to 48 hours, if not sooner.
Finding the Right Cannabis Lender 
Finding the right lender can be challenging. Banks and traditional lenders don't typically lend to cannabis businesses. That's why it's vital to find a cannabis lender that understands the needs of the cannabis industry.
To find the right lender, look for a company with experience and a solid track record. And always compare the interest rates and loan terms of at least three different lenders so you can make sure you're receiving the best deal. Don't forget to check for any hidden fees that can add to the cost of your loan.
Alternatives to Traditional
Working Capital Loans
While working capital loans offer the most flexibility, cannabis business owners might also consider other loan programs, such as:
Equipment Loans
Equipment loans can help you finance additional business equipment and technology, though they won't offer the same flexibility as working capital loans to purchase inventory or hire employees.
Accounts Receivable/Invoice Line of Credit
This method lets you borrow money from your accounts receivable for fast funding. It also provides flexible funding, though a working capital loan can provide a fresh cash flow without borrowing from your own business.
Dispensary Loans
Dispensary loans can also fuel business growth and be used to fund equipment, inventory and real estate. The downside is that these tend to be larger term loans, which means that they can be harder to get than a simple, flexible working capital loan.
Flexible Financing for Growing Businesses
With cannabis businesses on the rise, entrepreneurs need flexible financing solutions to adapt to changing market conditions and stay ahead of the growing competition. According to financial data reported by the U.S. Securities and Exchange Commission,  the industry is expected to earn over $31 billion by 2024. This shows the importance of being able to adapt to changing needs.
With a working capital loan, you'll achieve a dependable, flexible solution that empowers you to cover your operating expenses while accelerating your business growth. The right lender can help you meet your needs for today while driving yourself into the future.
Quick Apply
*** Not a provider of personal loans! ***
"*" indicates required fields
Frequently Asked Questions
Q: Are working capital loans a good idea?
Working capital loans offer a flexible way to cover your operating expenses while also working toward future growth. Just be aware that some lenders tie the loan to your personal credit, which could mean you're personally liable if you don't repay the loan.
Q: What percentage of businesses use working capital loans?
Exact data on working capital loans isn't readily available, though the Federal Reserve reports that 45% of businesses use lending options to address funding needs.
Q: Why do people get working capital loans?
Business owners most often get working capital loans to cover operating expenses, but they also use the loans to address seasonal trends in their business or to provide cash flow for expansion projects. The advantage is that working capital loans are flexible — you can use them for a variety of business purposes.