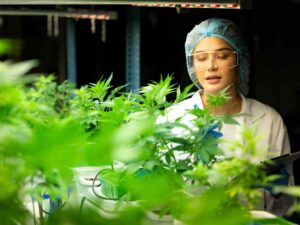 After working hard to build your cannabis business, you're finally ready to open a new location in your community. You've found just the right spot, but there's one problem: You haven't pulled together enough funding for commercial real estate.
You can still complete your purchase using a bridge loan. Real estate bridge loans can assist with short-term financing while you obtain traditional funding.
This guide will introduce you to the mechanics of real estate bridge loans and help you decide whether they make sense for your growing business.
What Are Real Estate Bridge Loans?
A bridge loan is a form of short-term financing. A real estate bridge loan is meant to bridge the gap between the purchase of your commercial property and the time you secure long-term financing.
For example, suppose a business owner needs to purchase a new commercial building but hasn't yet secured financing. In that case, they may be able to find a bridge lender to provide the necessary funding to complete the purchase. Later, they can refinance the loan with a traditional real estate loan program.
As a result, the loan term for a bridge loan is always low, often just six months to a year. The actual loan amount can also be less and is usually designed to complete your down payment and a bit beyond.
That said, it's not uncommon to find lenders who will loan you as much as 75% or 80% of the total loan value. Just be aware that real estate bridge loans can bring higher interest rates than other commercial loans.
How Real Estate Bridge Loans Work for Cannabis Businesses
You may have already discovered that it can be challenging for cannabis business owners to secure commercial funding for their operations. That's especially true when it comes to cannabis real estate. As your business grows, though, a bridge loan can give you the capital you need to expand into new territories.
For instance, you may learn of a new commercial facility in your area that you could use for warehousing or a new storefront property that could function as additional retail space.
Tracking down a cannabis lender can take time, but a real estate bridge loan will empower you to seize these new opportunities, then worry about traditional financing down the road.
Some bridge lenders offer interest-only loan programs. That means you'll only pay for your interest for a set period, after which you'll be required to pay on the principal. This provides flexibility for cannabis business owners who may need that time to secure working capital as their operations grow.
Why Real Estate Bridge Loans are Ideal for Cannabis Businesses
A study on Washington state reveals that cannabis businesses flourish when operating out of multiple locations. The study concluded that the average revenue for a multisite location was $2.75 million per store compared to $2.03 million for stores with a single location.
To scale up, cannabis business owners need fast, flexible financing solutions. That's because it can be a unique challenge for cannabis entrepreneurs to secure traditional forms of commercial financing. 
Bridge loans offer the flexibility and convenience you need to grow your cannabis business.
You can use a bridge loan to make quick purchasing decisions, then use the duration of your loan term to seek cannabis financing. Even with a short loan term, you'll have time to compare interest rates and terms before you refinance to a traditional commercial loan.
Pros and Cons of Real Estate Bridge Loans
Is a bridge loan the best idea for your cannabis business? Possibly. But first, you'll need to weigh the pros and cons of real estate bridge loans to determine whether they fit your needs.
Pros
On the plus side, bridge loans offer the following benefits:
Access to fast, flexible financing for commercial real estate

The ability to purchase new commercial properties when the opportunity arises

Time to track down a long-term commercial lending solution

Flexible rates, terms and loan amounts

The potential for interest-only monthly payments
Real estate bridge loans can provide you with fast funding while you secure the long-term financing you'll need for real estate investing.
Cons
Bridge loans can also bring disadvantages:
Comparatively high-interest rates

Interest-only payments can mean higher monthly payments later on

Shorter term financing than other loan options
While real estate bridge loans can provide fast, flexible financing, they're often a necessary stopgap rather than a long-term financing solution.
Cannabis businesses that secure commercial financing can avoid bridge loans altogether, but others can navigate these possible drawbacks to secure the flexible financing they need to thrive.
Alternatives to Real Estate Bridge Loans
Real estate bridge loans aren't your only option for cannabis business funding. Here's how bridge loans stack up against other common types of cannabis business financing.
Dispensary Loans
Dispensary loans can cover a wide range of needs, including commercial real estate. This flexibility can be helpful when expanding your cannabis business. But a dispensary loan might not be as readily available as a bridge loan, which can be important when seizing new business opportunities.
Real Estate Loans
In many ways, a cannabis real estate loan might be superior to a bridge loan. For example, a cannabis real estate loan will usually offer interest rates lower than most bridge loan rates.
The downside is that even if you find a reliable cannabis real estate lender, it can take time to secure the necessary funding. A bridge loan can help you act quickly and secure long-term funding later.
Equipment Loans
While equipment loans aren't meant for real estate, they can still provide assistance with purchasing operational equipment. The funding you receive from your equipment may then liberate cash you can use for additional commercial space.
Most equipment loans are too small to do much good, which is why most cannabis business owners will need some sort of dedicated real estate loan for commercial property. Real estate bridge loans enable you to complete real estate purchases while shopping around for long-term financing.
The Flexibility Your Business Needs
Real estate bridge loans serve a narrow but important purpose: A bridge loan can provide short-term financing to purchase commercial real estate before you've locked down a long-term funding solution.
As a result, you'll be better equipped to respond to new needs while having the time to research and compare cannabis lenders. You'll also gain a competitive advantage because you'll have immediate purchasing power. And by proactively working toward expansion, your business will gain the resources it needs to see success for years to come.
Frequently Asked Questions
Q: Are bridge loans hard to get?
A: Cannabis business loans tend to be harder to obtain because marijuana has only been legalized at the state level. Cannabis lenders offer financing options, and the good news is that you can generally secure a real estate bridge loan more quickly than a long-term loan, giving you more flexibility.
Q: Are bridge loans safe?
A: There's nothing inherently dangerous about bridge loans, but they typically come with higher interest rates than a commercial mortgage alone. You'll also need to make sure to secure long-term financing before your bridge loan term expires. 
Q: What is a bridge loan used for in real estate?
A: Real estate bridge loans are designed to offer short-term financing so you can purchase commercial real estate before you secure long-term funding.
ERTC Intake Form
ERTC Intake Form